20 jan

De sociale media trends voor 2023
De social media trends voor 2023
Al nagedacht over je sociale media strategie in 2023? Om je alvast een handje te helpen zetten we de 6 belangrijkste social media trends op een rijtje. Lees ze snel door en start het nieuwe jaar meteen goed.
1. Authentieke en geloofwaardige content
Consumenten worden dagelijks overspoeld met informatie in de vorm van advertenties, nieuwsbrieven, social media posts,… Maar is deze informatie ook steeds te vertrouwen? In 2023 wordt de vraag naar authenticiteit steeds groter.
Zo vormen nano-influencers (< 5000 volgers) bijvoorbeeld al 90% van de succesvolle influencer-marketingcampagnes. Dat komt omdat ze geloofwaardig overkomen en je merk verbinden met een nichepubliek. Ze hebben een bescheiden bereik maar worden door hun volgers wel gezien als een eerlijke bron van informatie. Wanneer je een specifieke doelgroep wil bereiken zijn nano-influencers dus alvast een goed idee. Hetzelfde geldt voor user-generated content waarbij gebruikers zelf content maken wat opnieuw de geloofwaardigheid van je merk ten goede komt.
TIP: Zet in 2023 extra hard in op UGC (user generated content) en zet campagnes op die klanten aanzetten om zelf content te creëren over het merk. Last but not least: vergeet niet om dit engagement te belonen. Want motiverend belonen loont.
2. E-commerce op sociale media
Stel: je scrolt op sociale media en je oog valt op een advertentie van dat ene kledingstuk. De broek die al enkele weken op je verlanglijstje staat. Je beslist om jezelf te verwennen en de broek aan te kopen. Herkenbaar, toch? Het liefst wil je dat dit zo snel mogelijk gaat. In één klik.
73% van de bedrijven zijn momenteel bezig met social-commerce en dit aandeel zou de komende jaren enkel nog stijgen. Nog niet helemaal duidelijk wat 'social-commerce' nu juist is? Eigenlijk is het simpel. Social-commerce is de mogelijkheid om rechtstreeks producten, merken of diensten te kopen op sociale media platformen zonder dat men de social media-app moet verlaten. Dat gebeurt met behulp van Facebook Shops, Instagram Shops, TikTok shops of Pinterest Product Pins.
TIP: Maak het klanten dus zo makkelijk mogelijk en zorg voor een aangename en snelle shop-ervaring binnen sociale media-apps.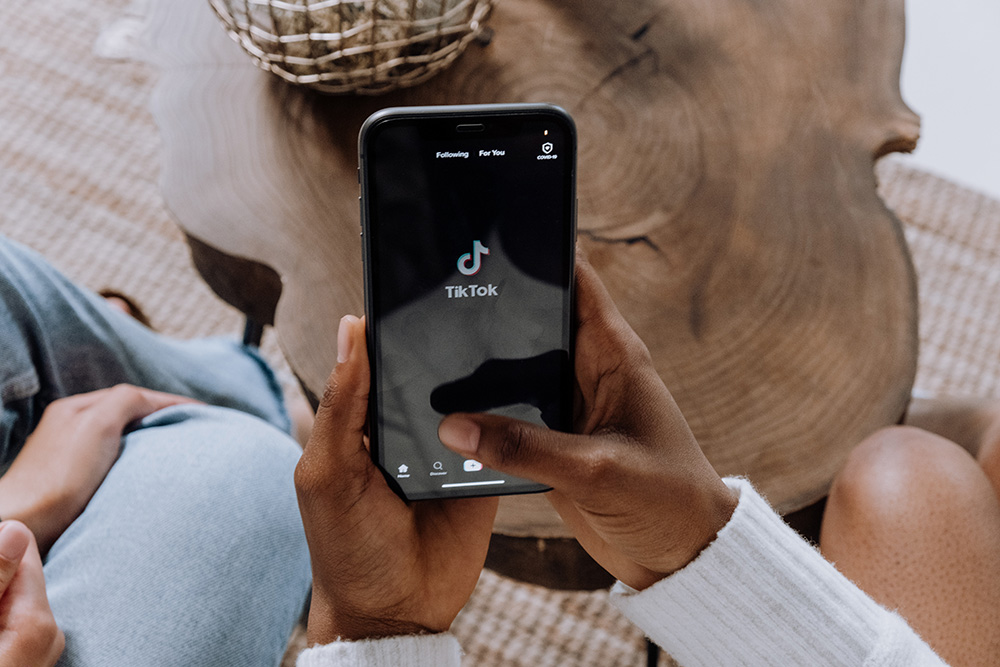 De groei en het succes van het social media platform TikTok blijft toenemen, ook in 2023. Maakt dit succesvolle platform nog geen deel uit van jouw marketingmix? Think again!
Het platform is dé grote groeier en toch zien we dat veel bedrijven de app nog niet gebruiken. TikTok is een relevant kanaal waarop tegenwoordig niet enkel jongeren te vinden zijn. Zo zien we wel vaker dat een nieuw social media platform eerst jongeren aantrekt en daarna ook steeds populairder wordt bij volwassen.  Er zijn steeds meer dertigers en veertigers te vinden op de app en de groep jongeren lijkt een maximum te bereiken. De app is dan ook de perfecte plaats voor het delen van authentieke en persoonlijke content die in 2023 eens zo belangrijk zal worden.
TIP: Begin bij het begin: het creëren van een account. Belangrijk hierbij is om over te schakelen naar een pro-account. Dat is gratis en geeft je meteen veel meer inzichten in je statistieken en doelgroepen.
4. Short-Form video is de norm
Dat video's het goed doen op sociale media zal niemand meer verbazen. 80% van de content op het internet is dan ook in videoformaat. Niet alleen TikTok doet het goed met hun korte video's, ook Instagram, Facebook en YouTube zetten hier steeds meer op in. Denk aan Instagram Reels en YouTube shorts. In 2023 zal deze trend zich blijven voortzetten en is het belangrijk hier op in te zetten aangezien video's steeds centraler komen te staan in social media apps.
TIP: Probeer je content om te zetten naar korte, dynamische video's in de plaats van statische beelden.
5. Communities in plaats van persona's
Een steeds meer opkomend idee is het afstappen van persona's waarbij een typische gebruiker gekarakteriseerd wordt. Er zal een grote focus gelegd worden op het bereiken en creëren van communities. Binnen deze gemeenschappen gaat het meer over de uitwisseling van inhoud tussen alle leden van de groep.
TIP: Definieer de communities rond je merk en bekijk hoe je bepaalde informatie over je merk binnen deze groepen krijgt.
'Metaverse' was in 2022 veruit het meest besproken marketingbegrip. Wat houdt het nu eigenlijk in die 'Metaverse'? Het is een virtuele wereld waarin mensen online met elkaar in contact komen in een netwerk van 3D-ruimtes. Gebruikers kunnen verschillende activiteiten uitvoeren via een digitale dubbelganger.  Specialist Henk Haaima omschrijft het mooi: 'van pages naar spaces'. Van 'ouderwetse' 2D-websites en pagina's, naar 3D Augmented reality en virtual reality-verrijkte 'spaces' waarin je als consument letterlijk kunt rondwandelen.
TIP: Als je niet goed weet waar te beginnen is het testen van AR- en VR-content rondom je bedrijfsaanbod een goed idee. Op deze manier ben je eigenlijk al aan het investeren in de 'Metaverse'.
Klaar om eraan te beginnen?
Op zoek naar een partner om samen met jou je sociale mediastrategie voor 2023 uit te werken? Wij zijn er voor je. Maak een afspraak voor een gratis intakegesprek of stuur ons een mailtje. Dan maken we een voorstel op maat.